The Garden Route
Close to a mountain range, and 'mind-blowing' beaches - this area is one of the most visited routes for tourists in South Africa. As the name says, the area is richly endowed by nature and has beautiful beaches along the warm Indian Ocean, untouched forests, lakes, lagoons and rivers. To the north the area is surrounded by beautiful mountains and they are accessed through beautiful mountain passes. The climate is pleasant most of the year. It can rain quite steadily, but preferably at night. Thus this also maintaines the green landscape.
Breathtaking scenery with impressive mountain ranges, vast expanses and a beautiful coastline with great beaches meet the visitors in this beautiful area, which is also called Eden or Paradise.
George is "the capital" in the The Garden Route and is an excellent base to explore this part of South Africa.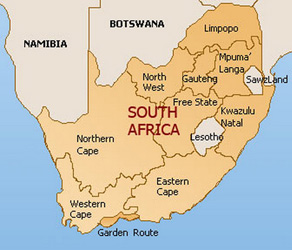 The area invites you to many different outdoor activities. Here you might play golf on some of South Africa's (and the worlds) finest golf courses, practice all water sports; canoeing, diving, fishing, paragliding, hiking in the mountains or along the coast - or try the world's highest bungee jump, in short; The possibilities are many!
Swim in the Indian Ocean, visit wineries or an ostrich farm, visit the famous Cango Caves, safari in malaria-free area, sightseeing by helicopter, play at the casino or maybe a cruise in the Knysna Lagoon?
Below you will find a selection of pictures from a safari: